When it comes to beef cuts, the ribeye steak stands as one of the most sought-after and flavorful options on the market. Its tender texture and rich marbling make it a favorite among steak lovers. But have you ever wondered just how many ribeyes can be obtained from a single cow? In this comprehensive guide, we will delve into the intricacies of bovine anatomy, the different cuts of beef, and the factors that determine the number of ribeye steaks per cow.
Understanding Bovine Anatomy and Beef Cuts
Cows, as large mammals, have a muscular and bony structure that is divided into several cuts, each with its own unique characteristics and uses in the culinary world. To understand how many ribeye steaks can be obtained from a cow, it is crucial to have a basic understanding of the different beef cuts.
Primal Cuts
Beef is typically divided into two main categories: primal cuts and retail cuts. Primal cuts are large sections of beef that are separated from the animal during the butchering process. These primal cuts serve as the primary source for the various types of beef that we consume, including steaks, roasts, and ground beef.
The four main primal cuts of beef are:
Retail Cuts
Retail cuts are the individual portions of beef that are obtained from the primal cuts. These cuts are further divided into specific steak names and sizes. The ribeye steak, for example, is a retail cut that is derived from the rib section of the cow.
Factors Affecting the Number of Ribeye Steaks per Cow
Determining the exact number of ribeye steaks that can be obtained from a cow is not a straightforward task. Several factors come into play, influencing the final count. Let's explore these factors in more detail:
Carcass Weight in Kilograms
The weight of the cow's carcass plays a significant role in determining the number of ribeye steaks that can be obtained. On average, a cow's live weight ranges from 544 to 635 kilograms. However, it's essential to note that the carcass weight will be lower due to the removal of non-edible parts like the head, hide, and internal organs.
Animal Genetics
The genetics of the cow also impact the yield of ribeye steaks. Different breeds have varying proportions of muscle and fat, which can affect the amount of meat available for ribeye steaks. Some breeds are known for their higher marbling, which contributes to the tenderness and flavor of the ribeye.
Butchering Processes
The way in which the cow is butchered and processed also plays a role in determining the number of ribeye steaks. Different butchers may have slightly different techniques and preferences when it comes to cutting and portioning the meat. This can result in variations in the number of ribeyes obtained.
Dietary Habits
The cow's diet can impact its overall size and the distribution of fat throughout its body. Cows that are fed a high-energy diet, such as corn-fed cows, tend to have more marbling and tenderness in their meat. This can lead to larger ribeye steaks and potentially a higher yield.
Estimating the Number of Ribeyes in a Cow
While it is challenging to provide an exact number, we can provide a general estimation of the number of ribeye steaks that can be obtained from an average-sized cow. Keep in mind that these numbers can vary depending on the factors mentioned earlier.
An average cow weighing between 544 and 635 kilograms can yield approximately 100 kilograms of beef. This translates to around 54 to 82 individual ribeye steaks. However, it's important to note that the size of each ribeye steak can vary depending on personal preferences and the butchering process.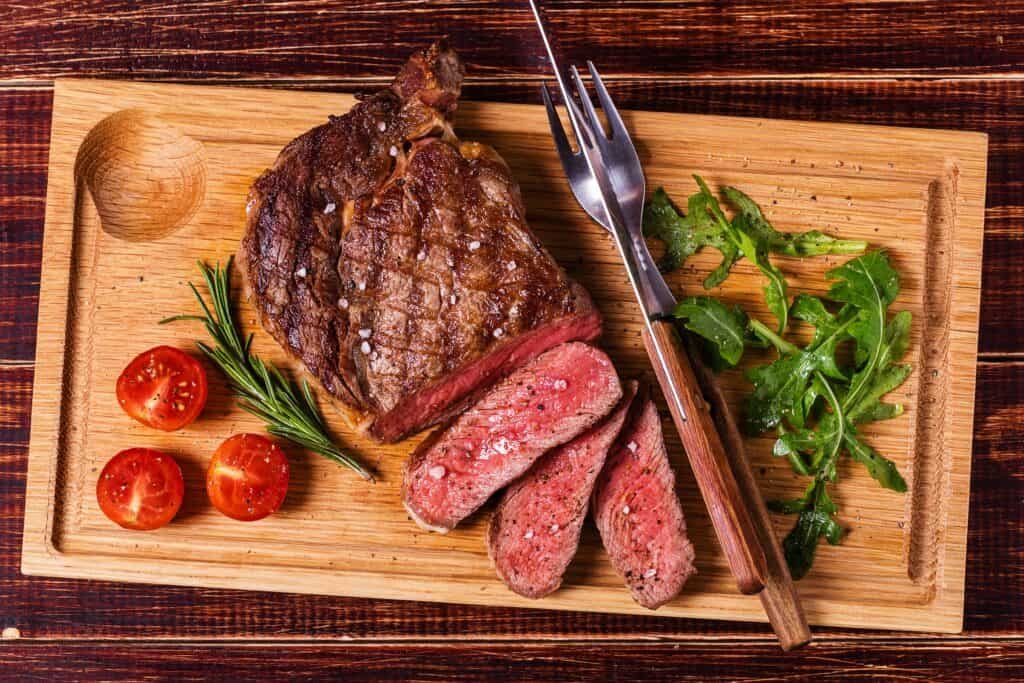 The Versatility of Ribeye Steaks
Ribeye steaks offer a range of options when it comes to cooking and serving. They can be enjoyed bone-in or boneless, with each option providing a slightly different eating experience.
Bone-in ribeye steaks, also known as "cowboy cut" or "tomahawk steaks", offer an impressive presentation and are often favored by those who enjoy the added flavor and aesthetic appeal of cooking meat on the bone. These larger cuts can weigh around 567 to 680 grams, providing a hearty and indulgent steak experience.
On the other hand, boneless ribeye steaks offer convenience and ease of preparation. These steaks are typically smaller, weighing around 227 to 454 grams. They are often chosen for their tenderness and the ability to cook them quickly and evenly.
Conclusion
In conclusion, the number of ribeye steaks that can be obtained from a single cow depends on various factors such as carcass weight, animal genetics, butchering processes, and dietary habits. While it is challenging to provide an exact number, an average-sized cow can yield approximately 120 to 180 individual ribeye steaks. Whether you prefer bone-in or boneless, ribeye steaks are a versatile and flavorful option for steak enthusiasts. So the next time you enjoy a perfectly cooked ribeye, you can appreciate the intricate process that goes into bringing this delectable cut of beef to your plate.